Wednesday, October 23, 2013
This should be my usual "drugstore beauty" post, but I didn't buy all of this round's products from the drugstore and I am nothing if not completely honest about my terrible spending habits. I've been picking up stuff here and there -- a couple of these came from my ipsy bag others came from shopping idly at the drugstore near my parent's house in Canada. Oh, drugstore of my youth.

Anyway, here's the latest and greatest! As always, click the pic to follow through to the product.

First up, Too-Faced Tan without the Twinkle Bronzer.

OK, so remember when we talked about
how to contour your face with makeup
and I was like, "Find a gray-based bronzer without shimmer" and everyone was like "But bronzer is BRONZE." Well, this is what I meant. I LOVE this bronzer because it's perfect for contouring. It's grayer and matte, which means it looks more like shadows on your face, which equals more natural contouring. I still have some shimmery bronze laying around, but this is my go-do for the daily.
Also it smells like vanilla and this delights me.
Victoria's Secret Rockin' Body Luminous Perfecting Body Cream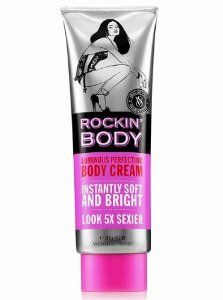 Let me first point out that I bought this in-store the other day and it didn't have that RIDICULOUS packaging. I was standing in line waiting to buy the softest hoodie of ALL TIME (yes I buy hoodies from VS don't judge me) and grabbed a tube of this stuff on a whim. It's like a shimmy gloss that makes your legs look super pretty in skirts. You can use it wherever you want your skin to look better, like your collarbone or your arms when wearing cap sleeves or whatever. Not a must have, but definitely fun to have in your arsenal.
NYC Applelicious Glossy Lip Balm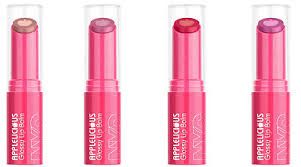 Confession time: I actually bought this for my daughter when we were in Canada. I was stocking up on my favorite Canadian beauty products and she wanted something and this was cheap and sheer so she wouldn't look like a crazy clown. Then I tried it and stole it from her. It smells good and it's super sheer and non-sticky, so I like it for layering over lipsticks for quick touchups. Plus there's an apple in it sooo.... yeah.
Big Sexy Hair Blow Dry Volumizing Gel
I worship at the altar of Big Sexy Hair products because my goal in life is to have big hair. So I can keep it full of secrets (anyone?) This stuff is great because you know when you use gel before blowdrying and sometimes there's like, a crunchy patch left afterward? Yeah, doesn't happen with this. And while it hasn't quite gotten me to Dolly Parton status, I'm happy with it.
Skyn Iceland Hydro Cool Firming Eye Gels
I posted a pic on Instagram of me trying these out at like 11:30 at night. It was preeeeeetty attractive. They're these little patches that you wear under your eyes for like 15 minutes. They're super cold and while I'm usually a huge eye-roller when it comes to stuff like this, I did feel like my eyes are waaaay less puffy when I use these. My friend asked if it helped with dark circles and I just know I didn't wake up looking like a zombie as per usual. Also, these + Downton Abbey + my bathtub make for a good night.
Buxom Full Bodied Lip Gloss
I bought one of these... and then bought another... and then another came in my ipsy bag... so yeah, I'm a fan. I find that the color is truer with these glosses than others --- not as diluted or sheer. Plus it's a little minty and makes your lips tingle which supposedly makes them bigger. Whatever, I'll take it. Buxom is by Bare Escentuals, so if you're a fan already, I recommend these babies all day. Not sticky at all and lasts forever so I feel like they're definitely worth the price.
Pixi Large Lash Mascara
You know I couldn't do this list without a mascara. I love them so hard. And natural girls, this is definitely for you -- this is the softest mascara I've ever tried. While I usually love a super-dramatic look, I use this stuff when I want a more natural look. It doesn't go on as gloppy and my eyelashes are still supersoft after it's dried. Love!
So there's the best of the best as of late.Have any beauty finds you want to share with me so I can drive my husband insane with my takeover of the bathroom counter?