Monday, October 1, 2012
So my weekend actually turned out pretty awesome. I found the motivation to pack an overnight bag and we took my husband's old Jeep Wrangler and drove right over the top of a mountain to get to the cabin. My hubs then took the kidlets fishing all morning, which means I stayed in my pajamas, ate cookies and watched/made fun of Twilight all day. It was lovely. After that, we headed back down the mountain and I checked out a new sushi place with my ladyfriends. Granted, my husband then complained that my hair smelled like fried Japanese food all night, but it was totally worth it.

ANYWAY, I wore this outfit as an homage to two awesome-possum (yes I just said that) trends for fall: Plaid and leopard. And while I love me some classic clothes, I love trendy patterns. Marry the two in a straightforward button up and a pair of awesome (and cheap woo!) heels and you have trendslavery at its best.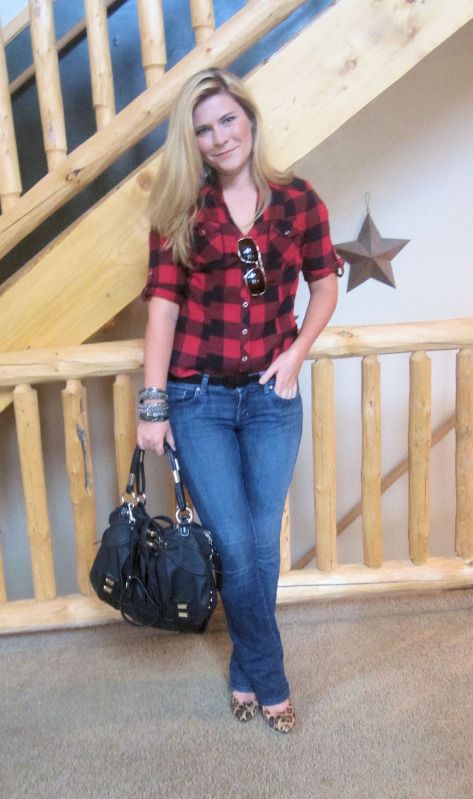 Button up - F21 (I bought this two years ago and they STILL have in stores oh yeah)
Sunnies: Relic (I was actually on my way out, I don't just wear sunnies on my shirt all day geez)
Jeans: Refuge
Shoes: Mossimo (I bought these crazy on sale I think they were 70 percent off)
Bracelets: Nordstrom
Leather cuff: Marc Jacobs
Earrings: F12
Bag: Guess
Not gonna lie. I feel like a boss when I wear the jeans, heels and button up combo. It totally looks like I know what I'm doing even though I don't 98 percent of the time. I vow to wear this a lot more this fall. Also, I bought an amazing turquoise blazer but I stopped myself from going crazy at the mall. I have family coming to visit next week and I plan on doing my major fall damage when they're here.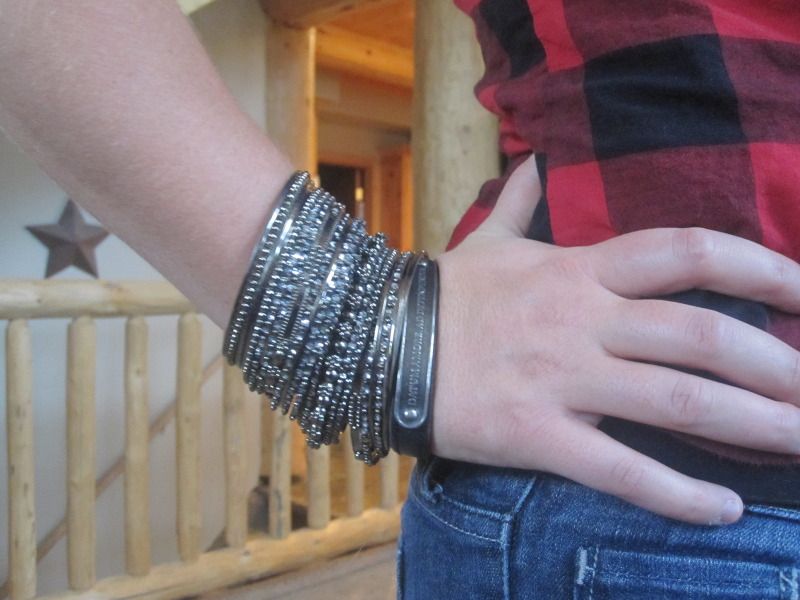 I blew $60 on these bracelets, but I still consider them one of my best investments. Those suckers go with everything. The leather cuff was a gift from the hubs and may have been pretty pricey, but since I'm wearing them with cheap heels I think it all averages out. Also, can I point out that these shoes were insanely comfortable? They're only a 3-inch lift and I wore them while on my feet for about four hours straight and it was nothing.
Note to self: Continue wearing jeans and heels until it snows and you have to pack away cute heels for cute boots. Note to readers: Do the same. Note to readers living in warm climates: Wear heels always. I'm jealous.