Monday, October 8, 2012
So I have a confession to make. I, Jae, am addicted to graphic tees of all kinds. I cannot stop buying them. I've been buying them since I bought my first non-sports shirt when I was 15 (I was a huge tomboy, OK?). I still have a major weakness for them, especially when layered with cute jackets and boots.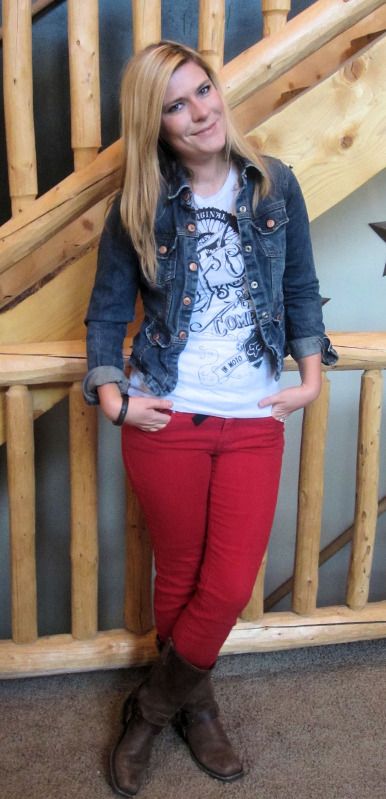 Graphic tee: Fox
Jacket: Old Navy
Red skinnies: Local (Contagious)
Boots: Frye (Harness 12R)
Cuff: Marc Jacobs
I work with a volunteer organization at the hospital and on Friday we had an annual night where we get together and do all of the prep work for the holidays over the space of six or seven hours. So I was looking for something super comfy and with layers because the hospital is bipolar when it comes to temps. Thank goodness I had one of my 6,000 trusty graphic tees to the rescue! We finally closed up shop around midnight, but not until I was basically coated in a thin layer of Mod Podge.
Some tips on buying graphic tees.
1. They should be fitted. A loose graphic tee just makes you look like you're slumming it in your high school band shirt.
2. Skip the sayings. Nothing makes me more uncomfortable than a woman wearing an "I have PMS" shirt.
3. Take it easy on the logos. I try to choose those that don't have huge logos plastered all over them. I liked this one because it was designed like a Ringling Brothers circus ad.
Also, I know that I've sung the praises of my beloved boots for a long time now, but this is proof that they go with literally anything. I'm coming up on three years with them and they've one gotten better. Seriously, if you're willing to invest in a boot, these are the ones to splurge on.

So, my question today is... what item of clothing have you been buying the longest? I know that graphic tees and I have a long and happy relationship yet to come.