Monday, August 13, 2012
SO you guys! I went ziplining on Saturday and it was So. Much. Fun. Me and my sister-in-law went together as a girl's day and went through this company. You head up in a Ranger 4-wheeler and then zip from platform to platform five times to get back down to the camp. Each line was a little different and you go in a group of eight, which mean talking to strangers in a "Hey, we're all in this together!" type way. I can't wait to go do it again.



Me and my SIL showing how to work those harnesses and helmets. Also, it looks like we coordinated our outfits. We did not.


That's me death-dangling in the middle of this picture. Eeeee!

Check that off the bucket list!

In a related note, the first item on my bucket list is to actually make a bucket list.


On to the outfit!



Scarf: Nordstrom (sold out boo)
Cardi: Banana Republic
Skirt: Local (My Sister's Closet)
Sandals: Soda
Cuff: Charlotte Russe
Hair: An old sock
Anyway, this outfit was a little tongue in cheek because I'm not American at all. However, the red and blue combo is my fave so when I saw this scarf, it had to be mine.
Being a Canadian living in America is weird a lot of the time. Besides the fact that the immigration process was almost exactly like
this clip from The Proposal
, I've been here nine years and some things will never become normal for me. Like, I never know what to do when people say the Pledge of Allegiance. Also, the Olympics are always weird in our house. I'm not a citizen, so there's some awkwardness there. I imagine I'll become one eventually, but for now I'll just be content to be a Canadian in American clothing.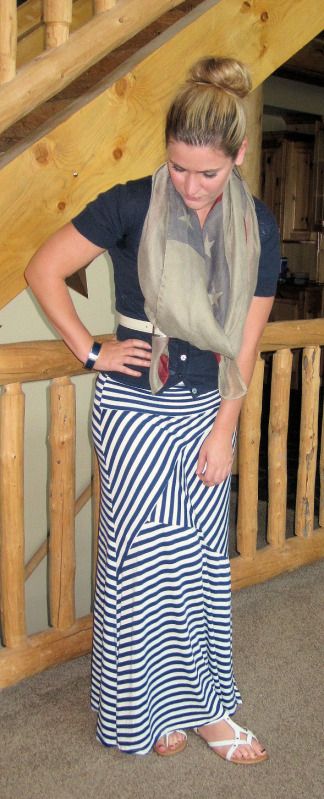 I never ever wear my hair all the way back like this, but I'm hiding some MAJOR roots. Hair appointment this week fo' sho' because now I'm an immigrant Canadian/American and brunette/blonde. But upon seeing it in pictures, I don't mind it that much. This is a sock bun, BTW. Have you ever done the sock bun? It's my fave ever. If you don't know how to do one, leave me a note in the comment and I can do a tutorial for it. And then you'll smack your forehead and wonder why you didn't learn earlier because it's the easiest.

Alright, I'd better get a jump on the day. It's rainy, so it's a prime chance for me to get some laundry done.

Bahahahaha.