Monday, April 23, 2012
So last week I showed you a dressed-up maxi, but here's my version of a dressed-down maxi -- with a hoodie!

I wore this to dinner with my friendsies. We like to call ourselves a "Bunco group" but we kind of suck at it. How does one suck at playing a game of chance? Um, we'd actually have to play in order to be an actual group. Last time we just sat around and ate Chinese food and talked about angry soccer parents and reality TV. Unfortunately, our Bunco will never reach the drama level of "The Real Housewives of OC" which makes me cry into my pillow at night, clearly.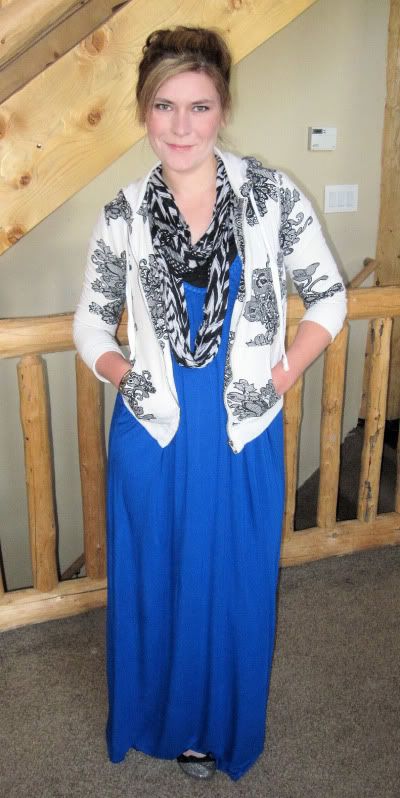 Since I most often end up sprawled on someone's couch eating treats, I look for uber-comfy clothes to wear. This maxi dress is like high class pajamas. To tone down the hippy factor, I added my fanciest hoodie. Oh yeah, that's a thing. A little pattern mixing with the scarf and I was ready to stuff my face with cinnamon bears for the rest of the night
Maxi dress and hoodie: F21
Scarf: Local boutique
Ring: Charlotte Russe
Watch: Gucci
Flats: Soda (I think.)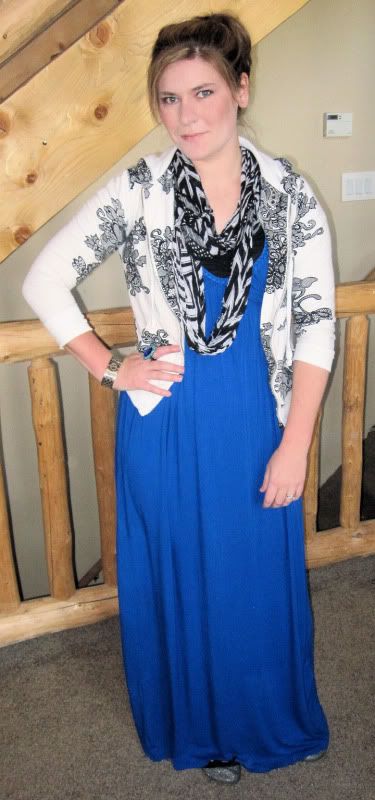 I officially love the color of the dress that I scored super cheap. It makes it so I don't need to do much in the way of add-ons. I have a really similar one in green too. Oh maxi dress, thanks for making it socially acceptable for me to dress like a hobo. I appreciate it. I'm also glad that my hubs came home just as I was running out the door, because I didn't have a post for today. Thinking ahead guys. Always thinking ahead. Seriously, if you don't have a maxi dress, please get one. It's so much more forgiving than a pair of jeans and it's easier to wear than yoga pants. ONE PIECE, people.
Anyway, our group finally ended up playing one round really late because we had prizes to divvy up. It was our most successful game night EVER. Even though I went home prizeless because I'm actively bad at stuff like that. Other things I'm actively bad at:
-Driving.
-Controlling my temper.
-Avoiding foods that start with "B" and end in "-ig Mac".
-Keeping my desk clean.
-Finishing bottles of water.
-Removing old receipts and gum wrappers from my purse.
No one take me to Vegas or a vegan restaurant please. I'll lose my money and leave hungry, in that order.
Alright, I'm off on a crazy day. My crazy mamadukes flies in tonight and there's a baby swing in the guest room. I'd better get on that.
...also, my mom left me a comment on Friday's post as "anonymous." See if you can guess which one is her. She is shameless.