Monday, March 19, 2012
SO remember how I was wearing shorts last week? I had planned to wear an adorable spring outfit COMPLETE WITH ORANGE when I woke up to gray, drizzly snow on Sunday morning. I decided the orange would have to wait and I pulled out my trusty yellow trench. I've had this jacket forever but I only ever wear it a couple of times per year. I always forget it's just hanging out in the mudroom, waiting for it's time to shine. You shall not wait any longer, yellow trench coat.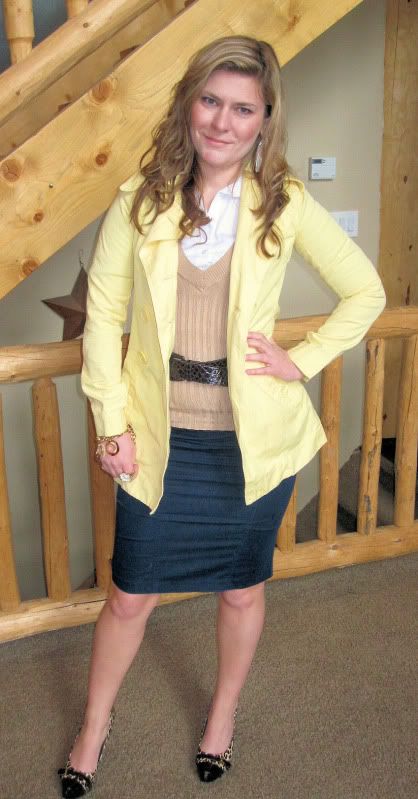 If I look tired, it's because I spent Saturday doing spring cleaning. It was awful, but now my house is junk-free and smells like bleach. Love!
Sweater: I can't remember. Story of my life.
Skirt: F21
Belt: Stolen from a skirt I bought at Urban Trend
Bracelet: Inspired Silver. Even though it's gold.
Ring and earrings: F21
Trench: I bought it online but the tag just says "twentyone" but I don't think like, F21 so I really have no clue. Thanks, online shopping. Regardless, I love yellow with leopard. Happy times!
Shoes: Qupid



Shoe shot time! I wanted these for like, a month before I bucked up and bought them. My husband thinks they're ridiculous but he generally thinks all of my shoes are ridiculous. He has like, three pairs. It's embarrassing.

Anyway, you may have noticed that Freaky Friday was missing last week. My computer had a seizure on Friday and I called it good and went out to play with friends instead. The level of commitment I have to this blog is astounding.

Since it's Monday, I'm trying to get off of my weekend hangover by thinking up some of the good things that have happened today. Here are a few:
-I went to lend my copy of The Hunger Games to my sister-in-law and found $10 stashed inside. I'm pretty sure it's my brother's. I'm going to spend it anyway.
-I went to Pilates class and had my butt handed to me, but now I feel so strong I could tear the head off of a billy goat. Don't mess with me today.
-Kid's Netflix. Need I say more?
-I have to go grocery shopping today, which is lame, but I love the day after you grocery shop and there's SO MUCH FOOD. Especially since I've been living on Reese's Eggs for the past weekend. My Mini Eggs were all gone.
-My house is already clean, so when my kids take a nap I won't feel guilty for reading a book and watching Real Housewives of Orange County. Winning!

Anybody else have any Monday goodness to share?