Monday, February 6, 2012
So I have to tell you guys what happened when I took my kids to that extreme air gym. Of course, I was being an idiot and acting like a kid and I hopped onto one of those pro European trampolines. You know, the kind with really loose weave so the second you step on one it slingshots you at the roof? Yeah, that kind. Anyway, I was jumping on it, getting some great height and congratulating myself on choosing to wear a sports bra, when my daughter wanted me to go somewhere else in the gym with her. I thought "You know what would be fantastic? Getting tons of height and then jumping onto the adjacent soft mat and landing on my back like a turtle -- that would be the coolest EVER." So I told my daughter to hang on as I jumped higher and then went sailing through the air to land on the soft mat.

Guess what?

It wasn't a soft mat. At all. No, instead, it was one of those rock-hard mats that mean gym teachers make you use. The ones that they hang up on the walls around the gym and that feel like spongey brick.

As I came down, I had the breath knocked out of me with a loud "OOOOOOFFFFF." There were two other moms there that had WISELY decided to be spectators and I'm sure they sniffed that THAT was why they never participate in that type of thing. I laid there for like, five minutes, wishing for the sweet release of death.

Then I got up to jump again. Unfortunately, my old lady body is not so quick to recover. I'm pretty sure I ended up with some type of whiplash.

Moral of the story? Test mats before staking entire life on their softness. Please.

But it's OK, because when I'm not acting like a demented ninja turtle, I dress like I'm super tough. As the daughter of a real-live biker, I'm genetically predisposed to things like leather and studs, which is why you'll see me in my Fryes more often than not. But don't worry, my dad is like, the nicest biker you would ever meet. He is adorable and wears gardening gloves when he rides. I mean, come on. You can't be scared of a biker who wears gardening gloves.

Also, he used to drive me to school on his motorcycle and I would be MORTIFIED because he would make me wear the helmet. It messed up my hair every. time.



I'm sure my dad would be proud to see his daughter sporting a nice person biker look like this one.

Tank: c/o mod bod
Black henley tank: GAP
Button up - Reitman's (Canada) I've had this since I moved here, which was 9 years ago.
Jeans: Abercrombie
Socks: Target
Boots: Frye
Earrings: Nordstrom (BP, I think!)
Bracelets: Nordstrom
Belt: Umm... I have no clue.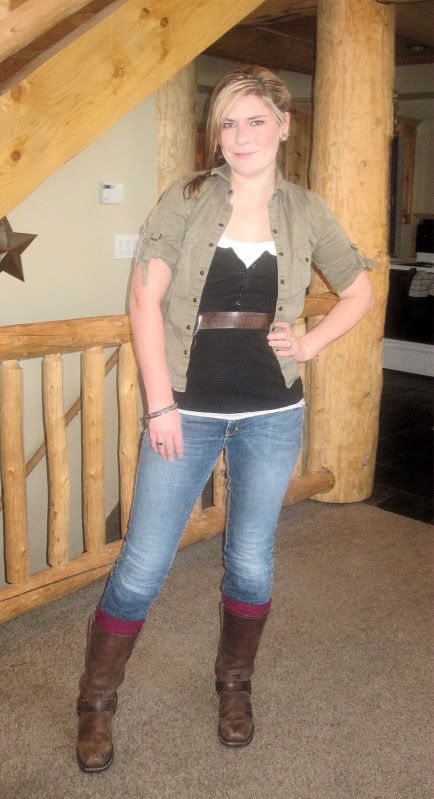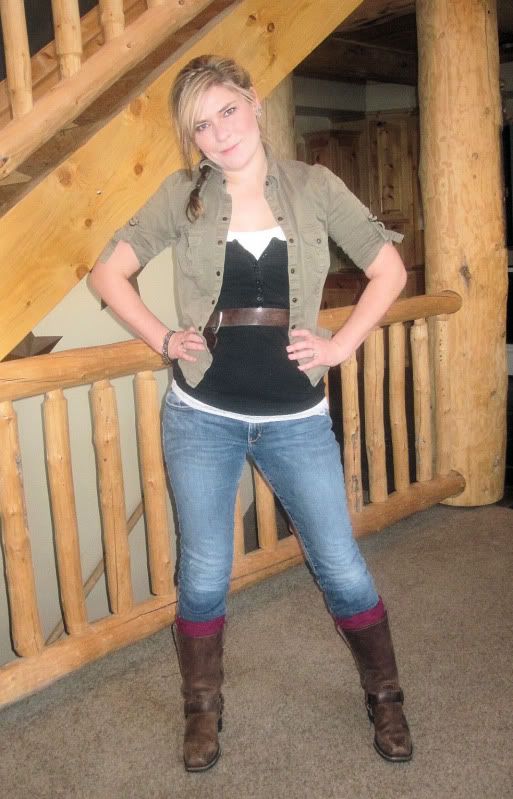 I tried to look tougher by not smiling but it didn't work. I just looked vaguely annoyed.

Please note that this is a super easy way to start layering if you haven't already tried it. Put something other than a plain Jane tank under a button up. It's super simple but gives some more interest to take away some of the tired mommyness of wearing a button up in general. I do this with henleys, vests, fitted graphic tees, you name it.

Also, what's better with a tough girl look than a cool braid? I just gave my hair a deep part and started the french braid just above by ear. I continued down diagonally across the back and it took like, three seconds.


See? Super easy.

Dressing like a tough girl biker is about the closest I'll ever come to driving a motorcycle in earnest. I'm too much of a spaz to operate one on my own. We have a four wheeler and I don't even know how to start it.

Plus the helmet messes up my hair.