Monday, February 13, 2012
How was everyone's weekend? In case you were wondering, I DID go see The Vow (with girls -- my husband has his limits) and then I bought some amazing shoes. I was all set to wear said amazing shoes when I woke up to a foot of snow outside. The shoes I bought were peeptoe. So I have to retool and wear some trusty boots instead.

I've posted about pattern mixing before, and here is how I do it. I love love this wrap dress but it can be a little boring. It fits like a glove so I keep it around and usually use different accessories to make it more interesting. I was doing my laundry the other day and realized that my scarf and tights had the exact same color palette and I was really more excited than anyone should ever be about scarves and tights. REGARDLESS, they worked to make my wrap dress less of a snooze-fest.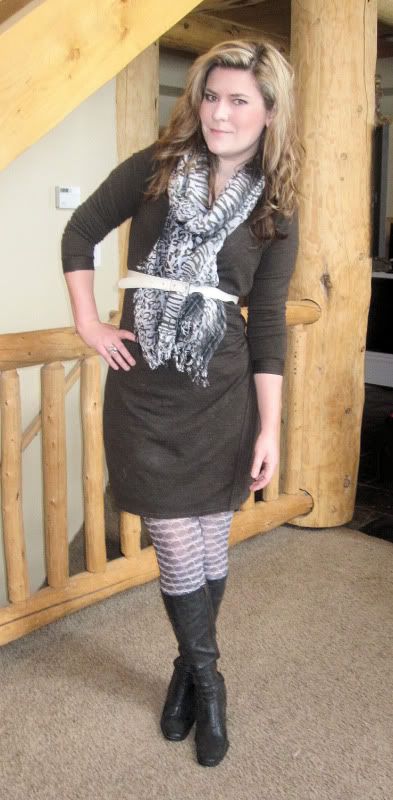 Scarf: Somewhere in the mall... I think Vanity? lol
Dress: Max Studio
Belt: Walmart WHAT
Tights: Target
Boots: Crystal
Ring: Inspired Silver

In case you haven't noticed, I have pretty specific tastes. I love the idea of mixing patterns but I don't ever want to look like I'm pulling off some uber hipster granny chic thing. So keeping the patterns in the same color family and positioning them on a foundation color like this dusky brown kinda tones down the "quirky" factor. Like, I'm pretty quirky in my personality but I don't like to dress quirky.

Even though we all know I have a Liger shirt.

But other than that...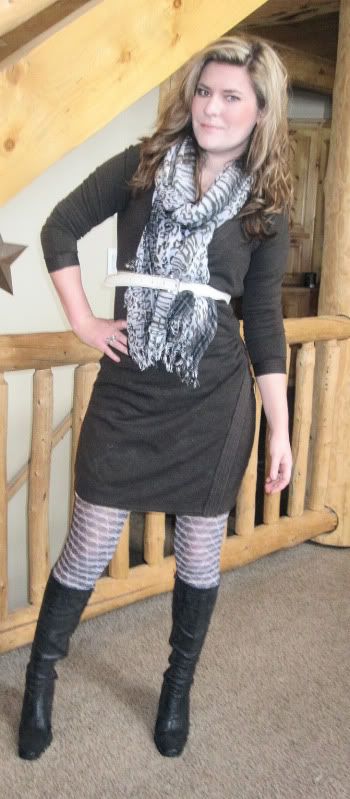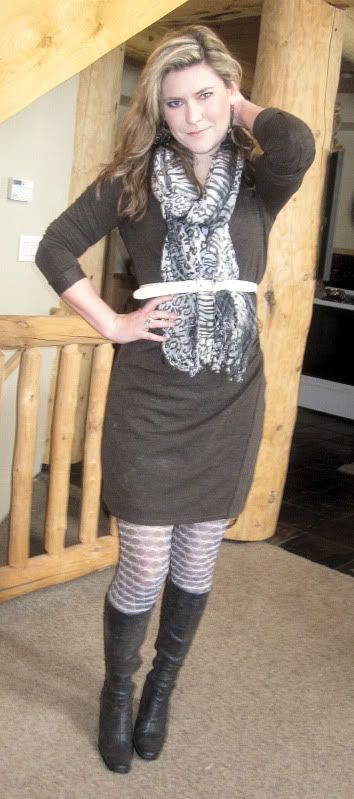 These boots are my famous "NICU" boots. The ones that I wore the day after having my baby and my legs swelled to massive proportions and I couldn't walk anymore. Oh, vanity, why do you treat me so badly? I ended up having to make my mom run into a store to buy some flats. But when I'm not like, 12 hours postpartum, I love the way they fit.

Alright, I just finished a ruthless Pilates class and kind of want to eat everything in sight so I'd better go get something quasi healthy before I undo my good work. So hungryyyyy.

Is butter a carb? (Name that movie!!)