Monday, February 20, 2012
After all of the craziness of last week, with V-day and my son's 3rd birthday, I absolutely did not want to be a "good mom." You see, every Friday I'm totally a "good mom" and take the mini-me's to do something fun, like when I nearly broke my collarbone at the air gym SO FUN YOU GUYS. It's really just my way of making up for my craptastic parenting skills on Monday through Thursday. But on Friday the only thing that sounded good to me was two hours in a dark theater with a tub of popcorn. Luckily, "The Secret World of Arietty" came out that day and my wish was granted. It was actually pretty good! And that means I didn't just slump down in my chair and cruise Pinterest like I did that time my kids wanted to see "Hoodwinked Too."

So, this is what I wear when I go on a romantical date with my two small children. Mostly, it's my mission in life to prove that motherhood doesn't have to be lame and yoga pants-inducing.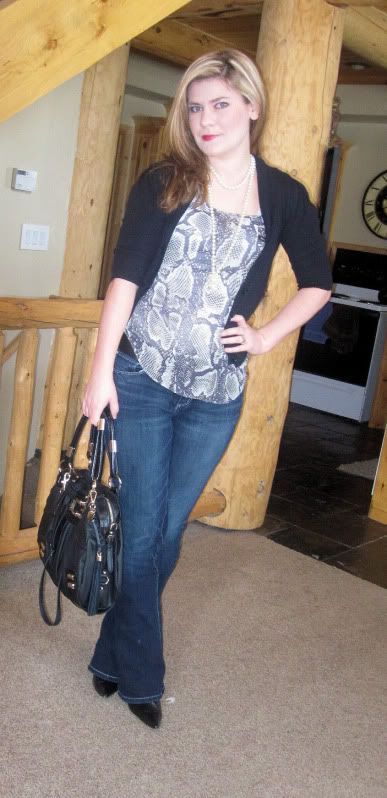 Tank: Tilly's
Sweater: No earthly idea
Pearls: Nordstrom
Jeans: Charlotte Russe
Shoes: Guess
Bag: Guess (I like Guess accessories despite the fact that their clothes make me look like a high-priced escort.)

The heels on these pointy shoes are deceivingly low, so they look way cooler than they actually are. I just don't do anything over 3 inches on weekdays. Speaking of which, I still have yet to wear my new purple shoes because it snowed AGAIN over the weekend. My shoes need to be WORN, mother nature! Don't hate.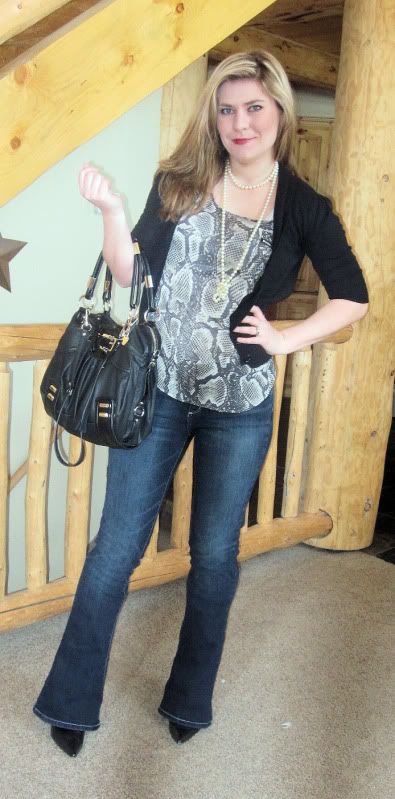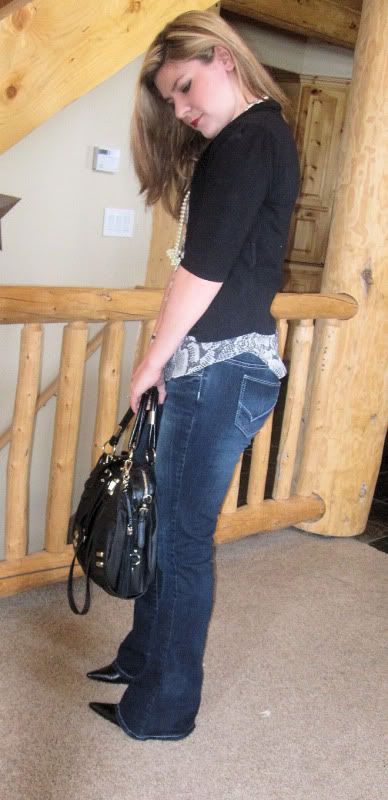 I just ordered this shirt and love it. The cuts on the side? Adorbs.



This is easily my favorite picture of the day. My 5 year old was taking pictures (as per usual) and my son decided to ride into the shot on his new scooter. Which is about the same time I started threatening with his life because we were going to be LATE FOR THE MOVIE.

Just so you don't think I live this sophisticated and serene life. I yell. A lot. For every good picture there's seven of me yelling at my son or giving my daughter the stinkeye.




Oh wells. I was too excited about this pearls/snakeskin/exposed zipper combo to stay mad for long. Also -- proof I do have all of my teeth.

The best parts about taking your kids on a date to the movies on a Friday afternoon? 1) No other kids in the theatre. Mine were the only ones because everyone else was either 16 or 75. 2) I didn't badger my husband into taking me to a movie that he would regret, like the time I made him see "Monte Carlo."

Everyone wins!