Monday, May 20, 2013
I had a ca-razy weekend running around. I spent all day Saturday putting together my "Jae's Favorite Things" basket for the Team Katrina fundraiser and it was so much fun! Plus, look how cute it turned out!


It's packed with stuff like a gift card for shoes, sunnies, a super cute summer scarf in leopard print, natch, tons of my favorite makeup, bracelets, you name it. So come to the fundraiser and buy it, k? That would be swell.
Because the end of the school year is so miserably busy, I find that everything I wear has to pull double duty. There's a good chance I'll have to go to the school for something or grab some lunch with friends or hit the grocery store because I'm in charge of soccer snack and oh yeah, look semi-put together in case I have to FaceTime a client at some point. It's cold and rainy today, but when it's warm out, I'm all about the summer dress.
Earrings: Buckle -- they're just plain hoops so I really doubt you need a link for that.
Ring: Inspired Silver (
similar)
This is the easiest, peasiest alternative to wearing the same old tee and jeans that you're already sick of and awesome for hot weather. If it was really scorching, I'd ditch the chambray for a lighter shirt and skip the boots and do wedges or sandals instead. Endless possibilitiesssssss and just as easy as pants.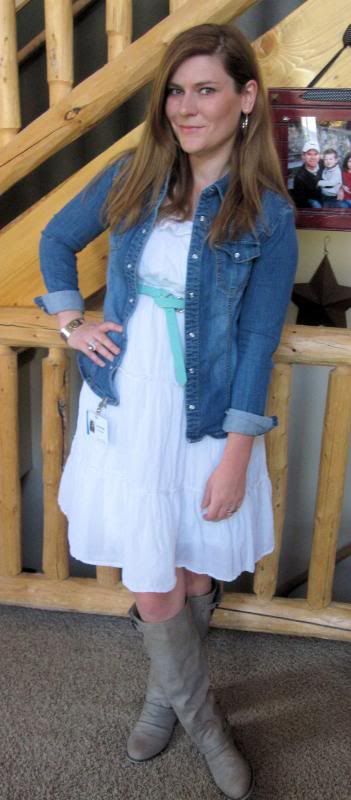 After all the running around, Saturday night was dedicated to The Great Gatsby and per my
Facebook post
, I totally wore yoga pants. It was two and a half hours long people! And I ate nachos! I need yoga pants for that. And I loved the movie -- it totally brought me back to Romeo + Juliet days and my husband was happy because it included classic cars.
Alright, I'm off for the day. Stay tuned this week because after my nacho binge, I'm ready to talk fitness + fashion together, including what I do when I totally don't feel like working out, some of my new fave workout clothes and some awesome accountability tools. Deal? Deal!
Aaaaand now I'm craving nachos.